African American Day Parade 2007
September 16 th 2007
http://www.hot97.com/events/aaparade.aspx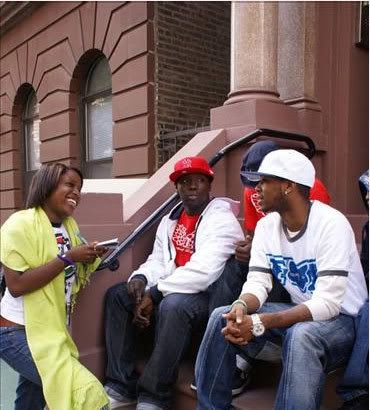 The 38th Annual African American Day parade took place this Sunday in Harlem . DJ Envy was mixing live on the HOT 97 float and Lil' Nat was waving to the crowd. Jason Fox and the Hood Presidents , who were discovered by HOT 97 's own DJ Enuff , performed their smash hit "Aunt Jackie". Kids danced alongside the HOT 97 float as it made its way down Adam Clayton Powell Blvd. DJ Webstar, known for "Chicken Noodle Soup", was also on the float. Rapper Cassidy performed hits "My Drink N' My Two Step" as well as "I'm a Hustla". The Brooklyn Steppers marching band, and the HOT 97 Untouchable Shorties Dance Crew were there dancing to the music from the float. The Brooklyn Steppers were amazing; performing their rendition of songs like "Bed" by J. Holiday, "Stronger" and of course, "Aunt Jackie." There was even a marching band showdown, drumline style! HOT 97 along with community leaders, fraternities and sororities all came together to in a showing of African American pride.
photo by Jay Oquendo