Attention Sneaker Heads: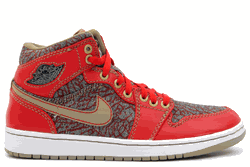 If you're really a sneaker fanatic, then you've probably already hit up Premium Laces. If not, then I'm about to put you on to something new.
Premium Laces, located on Spring Street in hipster SoHo neighborhood in New York, is known for their exclusive kicks and independent urban apparel. The store specializes in sneakers like the Nike Dunk SB, Jordans, Converse and Pumas. Although the store generally caters to men, the store caries smaller kid sizes as well as women's jeans and other apparel. The owner, Pete is cool and down to earth guy who's always had a passion for sneakers. He started out working at the Premium Laces store at Brooklyn's sneaker central, Fulton Street. Three years ago he started his own branch along with business partners John and Boris. Starting his own business was a "healthy risk", and he definitely sacrificed a lot. But the end product was a successful store and website that ships sneakers all over the world.
The storefront is discrete like most exclusive sneaker stores with no awning or sign. The sneakers in the display are "holy grails" or the most coveted according to Pete, attracting true sneaker heads to the store. Typical customers are the kids you probably knew in high school. Their whole paychecks would go towards copping the latest Jordans, or SBs. Pete recounts a time where he over heard a customer say that he wasn't sure how he was going to get home if he purchased sneakers that day. Part of business is staying true to customers, Pete believes and he knocked down the price so that the kid would have enough to get home. But Pete's favorites are the "Suit Guys" or "Monday thru Fridays". These guys are wear suits and carry briefcases all week long, but come the weekend, their back into their favorite kicks. Coming to a store like Premium Laces is nostalgic for them, and now as successful men they can afford to sneakers they couldn't have when they were younger. Tourists are also a big customer base and visit the store often for sneakers they can't find back home. They usually cop one or two pairs at a time according to Pete.
Sneakers aren't just about sports anymore. The Nike SB (the SB stands for Skate board) has made a major dent on the scene, releasing a limited amount of sneakers to a small "Mom and Pop" type stores. Dunks and SBs are unique because they come in packs or themes which appeal to the lifestyles of sneaker wearers. The Fallen Heroes pack featured kicks inspired by celebs like Milli Vanilli, Pee Wee Herman and Vanilla Ice. Like Jordans, no one knows exactly when these sneakers are set to drop. What makes Premium Laces stand out from the rest is that they get sneakers way before they are rumored to release. They've also got hard to find sneakers, and if they don't have what you want in stock, they will go out of their way to track it down for you. The most expensive pairs of sneakers are the Forever Fresh Yo! MTV Raps Puma Clydes, made to commemorate the 20th anniversary of the legendary Hip Hop TV show. They retail at $1000 a pair and only 225 of the shoe were released. The special edition Levi's Air Jordans which sell for $800. The sneakers come with a pair of Jordan Levi's jeans and tee shirt, both with the signature Jumpman emblem.. Premium Laces also has you covered for the newest apparel from independent urban clothing lines like Kosmetiks, Undefeated and Artful Dodger.
Whether you're a true sneakerhead or just looking for a "clean" pair of kicks, you've got to hit up Premium Laces!
Don't forget to hit up the store:
Premium Laces
68 Spring Street
212.334.4939
Shout outs to Pete and Boris.
Stay tuned for more exclusives like this one!
Me wearing the Doug E. Clydes!
Thanks Pete and Boris!